7.11.thu NOW & THEN at ROUND TWO STORE
On July 11th (Thursday) XLARGE will host a photo exhibition in collaboration with ROUND TWO, a vintage store, in LA; called Now & Then. We will also release a collaborative item to celebrate the event.

Shop owner, Sean Wotherspoon, is a renowned creator, famed for designing the "NIKE AIRMAX 1/97 VF Sean Wotherspoon".
ROUND TWO's style is famed for repurposing and reimagining classic, vintage, and rare pieces into a modern look; essential to the street fashion culture.

Now & Then will feature photographs dating back to XLARGE's founding in 1991 and other printed material from the time, as well as contemporary photos by the newest generation of our photographers, celebrating the relationship between XLARGE and the creators who will shape our future.

We are pleased to have Josh Madden from MDDN as xlarge's creative director, and this will be the first event that he'll preside over.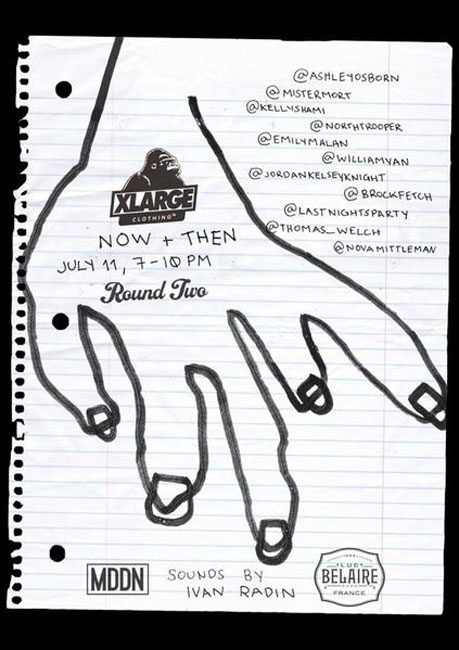 DATE&TIME
7月11日(木)19:00-22:00

ADDRESS
@RoundTwoStore_LA
7361 Melrose Avenue
Los Angeles California
GoogleMaps


FEATURED PHOTOGRAPHERS
@AshleyOsborn
@BrockFetch
@JordanKelseyKnight
@LogansRice
@KellyShami
@MisterMort AKA Mordechai Rubinstein
@EmilyMalan
@Thomas_Welch
@NovaMittleman
@WilliamYan
@LastNightsParty AKA Merlin Broques
@NorthTrooper AKA Chris Gualano

'Now & Then' art by
@BoyJonah

Sounds by
@commandrmusic

Beverages by
@OfficialBelaire

Food by
@DonutFriend

Production by
@MDDNco

BIG THANK YOU TO:
@Sean_Wotherspoon
@ChrisRusso21
@OGLukeMook